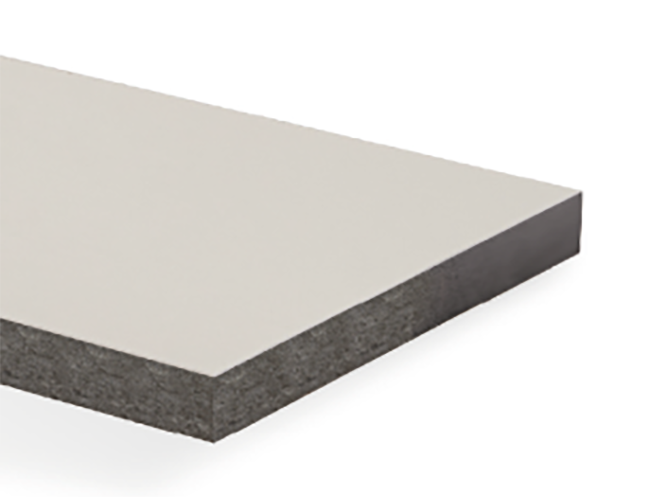 COMPACT (INTERIOR APPLICATION)
High-density kraft fiber layers, mass dyed, impregnated with phenolic resin, in black, white, brown or sandwich; covered with two layers of barrier paper (brown or white) and a decorative paper impregnated with melamine, on each side, resulting in a multilayer composition.
Manufacture of furniture that requires high surface and mechanical resistance (for restaurants, offices, hospitals, schools, etc…)
Interior design that requires high surface and mechanical resistance (schools, restroom cubicles, restaurants, partitions, changing rooms, hospitals, laboratories, kitchens, lockers, etc.)

2-sided decorative finish
Fire resistant product
Anti-bacterial surface
Excellent surface properties of resistance to scratching, abrasion and impact
Large collection of designs to combine with all our finishes, without restrictions
Possibility of developing exclusive custom designs
Easy handling, cutting and application with common tools. It can be easily drilled, screwed and installed, similar to chipboard or MDF, which requires specific machining with diamond and CNC tools and cannot be handled with the usual tools used for wood

Support thicknesses: between 2 – 30mm.

The final product will have the thickness of the base support. This increase derives from the layers of paper that constitute the multilayer composition. According to international norms, nominal thickness variation is +/– 10%

Measurements: 1830×2800 – 2100x2800mm

See collection:  colours
Possibility of personalizing the product by replacing the decorative paper with a digital print of an image provided by the client

The edge of the compact board does not require any specific treatment, it has to be left seen, depending on the cut or machining applied. In addition, being a black (or white or brown) and homogeneous edge, it offers a good aesthetic finish.